Angel

'in

Heavy

Syrup
Psychedelic/Space Rock
From Progarchives.com, the ultimate progressive rock music website
4.0 out of 5 stars
Making Glistening Waves Within The

Heavy

Syrup

January 1, 2012
Sounding like the invocation of an ancient tribal rite within the realm of a remote continent on a faraway planet requiring a universal translator to communicate with its alien population, heavily modulated guitar overlayers a heavily resonant bassline and propulsive tom-tom percussive work roughly a minute into
"Crazy Blues", the last track on this band's debut release, before hitting a groove which aurally resembles a more upbeat version of another track that cultivates an eerie, haunting atmosphere within an arrangement typically unfamiliar to Western ears, "The End", from the Door's classic debut. But this is only an extended interlude within "Crazy Blues", which changes tempo a number of times, truly eruptive guitar lines multiplying while the cut gradually builds to an explosive crescendo.
Angel

'in

Heavy

Syrup

makes frequent use of abrupt tempo changes within the structure of their longer tracks on their eponymous first release; "I'm Certain To Meet You" and "Underground Railroad" which aren't as sonically

heavy

as "Crazy Blues", but are still chock full of savory guitar lines channeled through effects. "Underground Railroad"'s first three minutes share the same basic formative structure as two of the CD's shorter cuts, "My Dream" and "Why Don't We Take A Sight-Seeing Bus?", both of which strike a passing resemblance to Lush's slower, more ethereal dream-pop; the vocalist shares nearly the same basic range as Miki Berenyi. (Indeed, all three members of

Angel

'in

Heavy

Syrup

are females; the vocals , except for the words "Crazy Blues" seem to all have been recorded in their native tongue) However, as on ""I'm Certain To Meet You" the tempo shifts on "Underground Railroad" signal a turn toward more heavily-processed, psychedelically-tinged, channeling the roar-of-the-universe guitar sound, reaching its climax on the sublime "Crazy Blues". "Why Don't We Take a Sight-Seeing Bus?" is a perfect shoe-gaze/space rock hybrid with an irresistable flow and fluid yet explosive guitar work.
Already confident and highly competent w/r/t their respective instruments, the sense I got was that this all-Japanese band were evolving toward a sound that would unite the most distinctive elements of dream-pop with

heavy

, heady guitar-driven space-rock , driving their best material toward a sustained, explosive release, and that they were still locating a comfort zone on this CD. Nevertheless, their interpretation of occidental psychedelia is more accomplished straight out of the gate than efforts from other bands who've been working the genre for years. A definite keeper, though not their definitive release.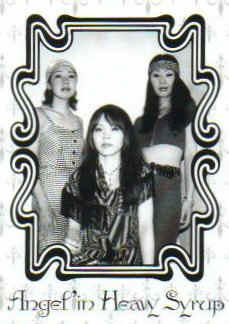 Studio Album, released in 1991
Tracks Listing
1. S. G. E. (Space Giant Eye) (2:35)
2. I'm Sure To Meet You (10:48)
3. Why Don't You Take A Sightseeing Bus With Me? (3:23)
4. Underground Railroad (8:27)
5. My Dream (3:28)
6. Crazy Blues (11:38)
Total Time 40:29
Musicians
- Mineko Itakura / voices, bass
- Mine Nakao / guitar, voices
- Yoko Mandrake / drums[/highlight]
Angel

'in

Heavy

Syrup

hail from Osaka, Japan. Unlike their contemporaries the Boredoms there is nothing harsh about them; their lyrics are sung, not screamed,and their guitar style is more similar to the Jefferson Airplane or Blue Cheer. Their bassist/vocalist Mimeko sings angelically over droning guitars laden with effects; the effect is an ode to and a reworking of psychedelic music.
>Angel'In Heavy Syrup - I (1991)<