The group remained quiet for nearly half a decade after their third album, finally returning with

Angel

'in

Heavy

Syrup

IV in late 1999. Takahara was gone, and as if to admit that they're incapable of keeping a steady drummer, her replacement Naoko Otani is credited as a guest musician. Their first album to be released simultaneously in Japan and the United States, the beautifully packaged

Angel

'in

Heavy

Syrup

IV was also the first to feature English translations of Itakura's Japanese lyrics in the liner notes.
-----------------
Review by DamoXt7942
SPECIAL COLLABORATOR Japanese Prog Specialist / Moderator
4 stars (From PA blog "Japanese Progressive Rock presented by DamoX")
My first impression ... they CANNOT taste noisy like most of Alchemy, but their guitar solos should be much influenced by Jerry Garcia or Duane Allman - that is, improvised whacked-out floating guitar trippin'.
Indeed, this album exerted undoubted tragedy that fragile

Angel

would fold her wings. Fusao and Mine's guitar flexibility is very fantastic. Such a fuzzy, garagey, shoegazey guitar could shoot very dreamy, dramatic work. In the first track First Love their guitar could be fully exploded. And Mineko's (a bit cheesy but) powerless plaintive hoarse voices could make this tragedy deeper and undergrounder. A Series Of Water Mind ~ Rubens And The Cathedral suite follows as another tragedy ... Mineko's faint chorus can impress us faithfully. With Mine and Fusao's bubbling guitar we can go on a trip into full of canned

syrup

... very sweet and very painful. Next Voyage - the first part is one of typical Space Rock songs, fully with persistent repetitive phrases and riffs and hypnotic rhythm ensemble. The latter part has such a dramatic dream as the previous tracks, based on Mineko's voices.
Air has changed drastically ... Adios In Those Days has something like ARS NOVA. Anyway, the same points are they play(ed) very dramatically, and the initial letter of each outfit's name is 'A' (just kidding). Hopping chopping guitar sounds can remind me something cool like a Japanese TV hero (no, HEROINE!) theme song. Of course, they did keep their strict style into this song. Surprisingly a warped, scattered guitar opening just like Speed Guru of Acid Mothers Temple is very impressive in Space Conquest. Very steady, self-possessed, calm ensemble is so amazing, but any foreseeing toward the end of this world? Yes, the last song Fate is ... rightly ... their wonderful guitar solo sounds sometimes weird and sometimes tragic. Mineko's voices are more and more powerful, as if candle frame would get strong and powerful before dying. We cannot help weeping whilst listening to this last stage.
Japanese sake (sad,sake, kanashii sake) is suitable for this album.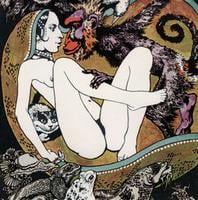 Artist –

Angel

'in

Heavy

Syrup
Album – IV
Release Date – 1999
Genre – Krautrock, Shoegaze, Psychedelic, Indie [ NICE ]
Studio Album, released in 1999
Tracks Listing
1. First Love (6:44)
2. A Series Of Water Mind ~ Rubens And The Cathedral (4:22)
3. Voyage (7:39)
4. Adios In Those Days (5:33)
5. Space Conquest (3:33)
6. Fate (11:04)
Total Time 38:55
Musicians
- Mineko Itakura / voices, bass
- Mine Nakao / guitar, voices
- Fusao Toda / guitar
- Tomoko Takakura / drums, percussion, flute